Last updated:
A brutally efficient single-target executioner and crowd control specialist. For the Bounty Hunter, planning is key - mark targets for bonus damage or look for opportunities to capitalize on a stunned foe.
He can also wreak havoc on an enemy party's order using his grappling hook, flashbangs and powerful uppercut.
Overview
The bounty hunter is an incredibly offensive hero, who is well suited to boss battles. To make the most of your strengths, it's best to use him in a mark group.
He is at his best when he is positioned on ranks 2 or 3.
His incredible camping buffs makes him the hardest hitting single target DPS in the game against large enemies that are marked.
Skills

Collect bounty
(100% damage | 11% critical)
190% damage against marked enemies and + 35% damage against humans. A particularly powerful base attack against marked enemies.

Mark for death
(Marque 3 tours | -20% protection | +5 speed)
A very good mark skill. Its duration is 3 turns, it works on all ranks and inflicts a protection penalty of 20%.
It also boost the speed of the bounty hunter, helping him hit with his 190% damage attack before enemies on the next turn.

Come hither
(Marque 2 tours | 20% damage | 4% critical)
An alternative to the previous mark skill. It only works on the back two rows, lasts for a shorter time and does not inflict a penalty, but it pulls the enemy forward.
Between the two, I prefer slightly mark of death.

Uppercut
(33% damage | 4% critical | Stun)
Inflicts stunning and small damage, as well as moving the enemy back 2 positions.

Flashbang
(Stun | Shuffle)
Inflicts stun on any rank, and shuffles position. The percentage of chance of stunning is very high.

Finish him
(100% damage | 9% critical)
160% damage against stunned enemies. Very good in the company of the plague doctor, since the latter stuns two targets at the same time, including one that can be attacked by the bounty hunter.

Caltrops
(5% damage | 9% critical | Bleed)
4 bleed damage for 3 turns that can be used from any rank and that debuffs the ennemy.
Suggested build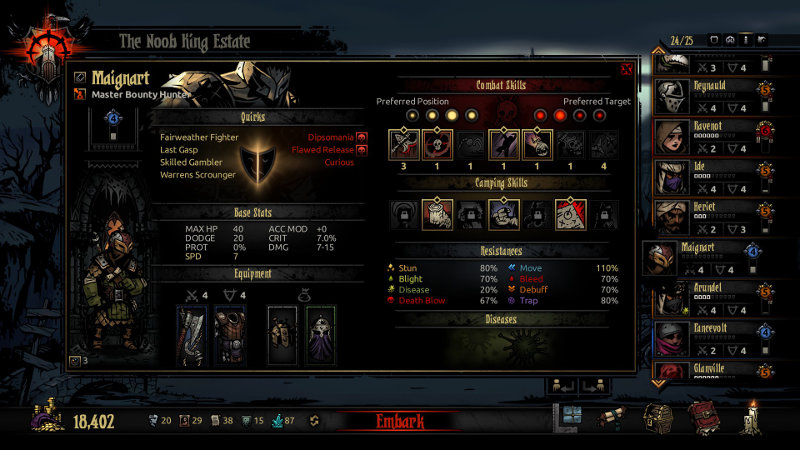 Collect bounty
Mark for death
Uppercut
Flashbang
Allows you to mark an enemy and take advantage of the 190% damage melee skill.
Additional skills give the bounty hunter a bit of flexibility depending on the situation, but ideally, you want him to hit hard with collect bounty on most turns. An ally should help him with the mark.