Last updated:
This is a small guide to help you beat the necromancer apprentice, the necromancer and the necromancer lord in the ruins dungeon.
Other boss guides
Tips
The crusader is a hero that I bring to the ruins very often and he seems perfect against the first iteration of this boss, the Necromancer Apprentice.
However…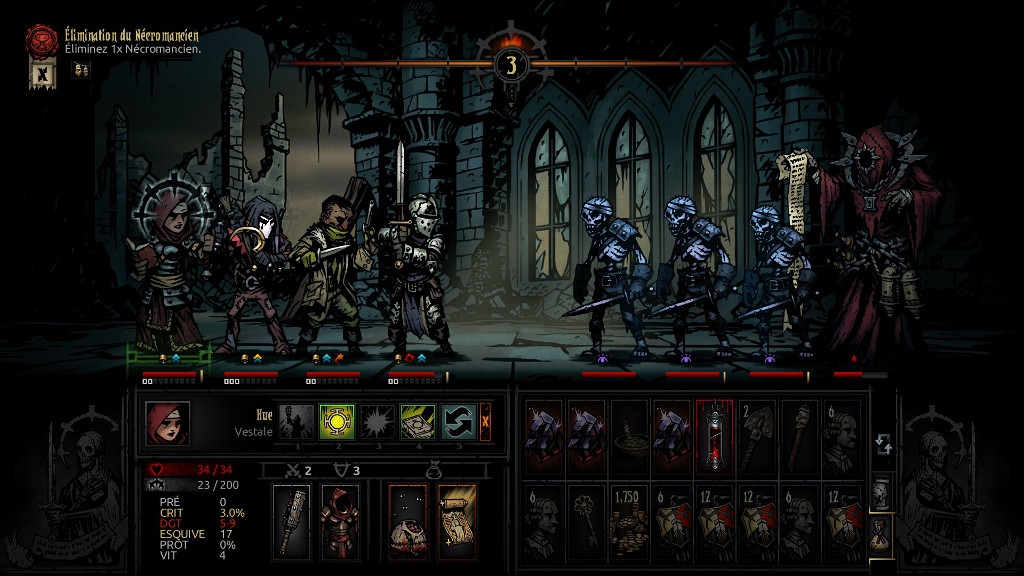 He's completely useless in the previous situation, placed at the front against stealthy skeletons. If you bring him, it is better to let the skeletons live and instead position the crusader in the back, armed with his sacred lance.
The hellion is an excellent alternative to replace him at rank 1. She's able to attack the boss in the front and in the back.
The plague doctor is an easy choice. The necromancer does not have a great resistance to blight (or bleeding), and the plague doctor is able to apply pressure at will.
The grave robber, the houndmaster, the highwayman and the shieldbreaker can also attack the necromancer on all ranks. As a bonus, the last two have a skill that eliminates stealth.
A good party
Hellion
Grave robber
Plague doctor
Vestal
A good alternative…
Hellion
Crusader
Shieldbreaker
Vestal
The hellion is fighting in the front. The shieldbreaker acts before the crusader who is much slower, and attacks while advancing with her spear.
The crusader next falls to rank 3 and is able to use his sacred lance, and then the story repeats itself. If needed, the shieldbreaker can eliminate the stealth of the undead.
Necromancer Apprentice
Health: 105
Dodge: 0%
Protection: 0%
Speed: 8
Stun resist: 75%
Blight resist: 20%
Bleed resist: 20%
Debuff resist: 40%
Move resist: 25%
Necromancer
Health: 158
Dodge: 8.75%
Protection: 0%
Speed: 9
Stun resist: 95%
Blight resist: 40%
Bleed resist: 40%
Debuff resist: 60%
Move resist: 45%
Necromancer Lord
Health: 215
Dodge: 22.5%
Protection: 0%
Speed: 10
Stun resist: 120%
Blight resist: 65%
Bleed resist: 65%
Debuff resist: 85%
Move resist: 70%