Last updated: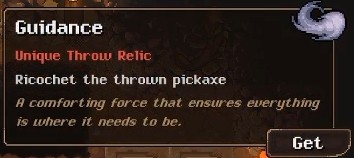 Guidance is a powerful relic that makes the thrown pickaxe bounce to the closest enemy that is in range. There is up to 3 bounces (4 hits total with the initial hit) and each bounce deals 20% less damage.
The same enemy can get hit twice. If there's only two enemies close to each other, they'll both get hit twice.
Tips for using Guidance
It doesn't work when the pickaxe comes back to the player's hand.
It doesn't work on the pilfer slimes that appear when gold is around.
You can use it to safely hit enemies that are way out of your normal range.
The statue version of the gargoyles (second world) might be immune to the thrown pickaxe but they still count as an enemy. The ricochet effect works on them.
Sonic Boom (throw spd+) make the bounces super fast.
Guidance makes easy work of the Golem boss as it has a ton of bounce targets.
The bounces will apply lightning / fire effects from other relics.
Video version