Last updated:
Fan art by Maricu on Tumblr
Shane is a character that comes across as very rough and rude at the beginning of the game, and that slowly becomes more friendly as your quantity of hearts with him go up.
His key attribute is his depression and the alcohol abuse that is used as a way to cope with it. Those will be presented to you during his hearts events.
He rents a room at Marnie's ranch and prefers being alone. He hates his job at JojaMart and would prefer raising chickens away from the town.
Table of contents
Shane gifts
Beer (+80 friendship)
Hot pepper (+80 friendship)
Eggs, fruits, vegetables, gems, artisan goods or cooked meals (+40 friendship)
My favorite gift for Shane is the hot pepper. It is cheap and grows fast during the summer: you get one new pepper every three days without the need of planting new seeds.
You can easily gather a few dozens of them during the first summer and just keep giving them to both Shane and mayor Lewis, who also rewards you +80 friendship from it.
Shane location and schedule
Joja Mart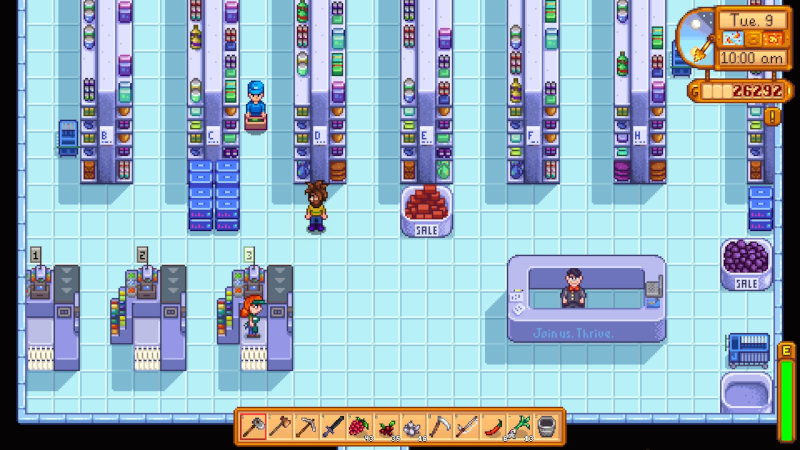 During the week, you can find Shane working 9 to 5's at JojaMart. He'll also do it during the weekend if it's raining.
One thing to note here is that you can't give gifts to Shane during his work shift. You'll just have to catch him on the way to work or when he is leaving work.
Marnie's house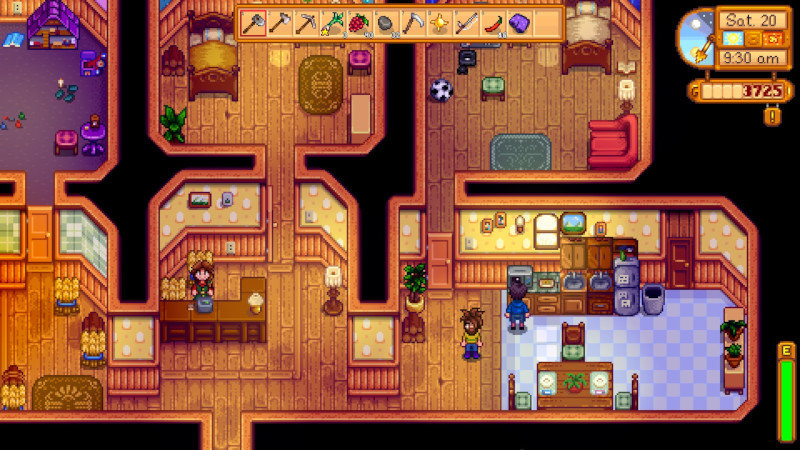 Shane rents a room at Marnie's house in the forest. You can find him there early in the morning during the week before he leaves to work, and very late when he leaves the saloon.
Once the community center is restored, he also spends a part of the afternoon there, before going to the saloon.
Saloon
You can find Shane drinking a beer at the saloon during the evenings. He goes there at either 5:00 PM after work, or at 2:00 PM when he's not working.
General store
On Saturdays, Shane spends the afternoon at Pierre's general store. Just like during the week, he leaves at 5:00 PM and heads straight to the saloon.
Shane heart events
2 hearts event
Go to Cindersap Forest, located south of the farm.
Shane will give a cold beer to the player and will open up a bit. He will share thoughts about how he feels his life is stuck in an abyss and that he isn't strong enough to get out of his miserable situation.
After the scene, the player is back to his farm but with the tipsy status, which reduces movement speed considerably.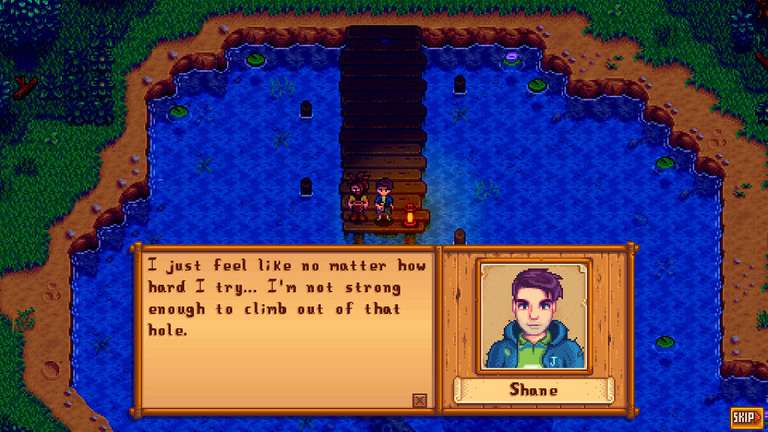 4 hearts event
Enter Marnie's house.
Shane is seen laying on the ground with empty bottles of beer around him. Marnie asks the player to do something, and he decides to pour fresh water on his face to wake him up.
A conversation follows between Marnie and Shane. She tells him that she is worried about his behavior and asks him if he has plans for the future. He answers that he hopes he won't be around long enough to need one. Jas hears it and runs away crying, and the scene ends with Shane having a breakdown.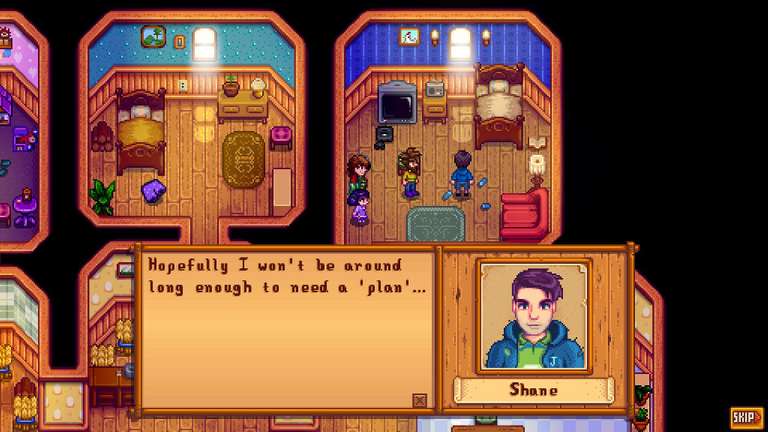 6 hearts event
Enter the forest south of the farm on a rainy day.
Shane is laying on the ground, surrounded by beer bottles. He is drunk and talks about how is life is a waste and a pathetic joke. His life is nothing but working, sleeping and drinking.
He is thinking about jumping down the cliff in the forest. You bring him back to reason and take him to the hospital.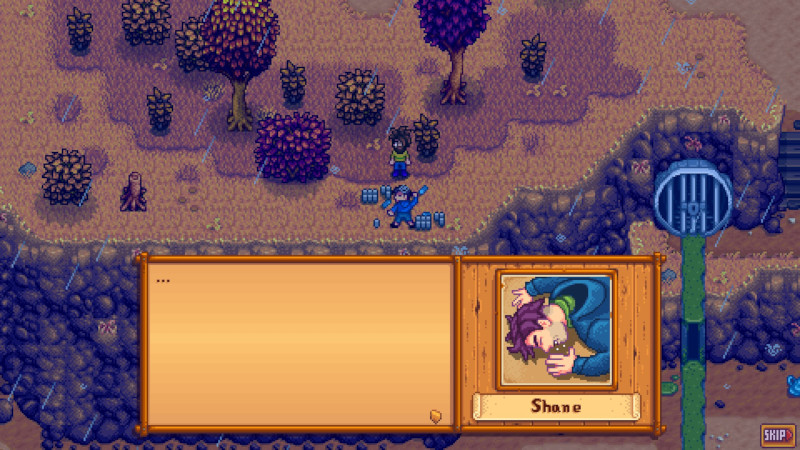 In the next scene, Shane can be seen in the hospital bed. Harvey tells you he is going to be okay, but that he is most worried about his depression and his mental health.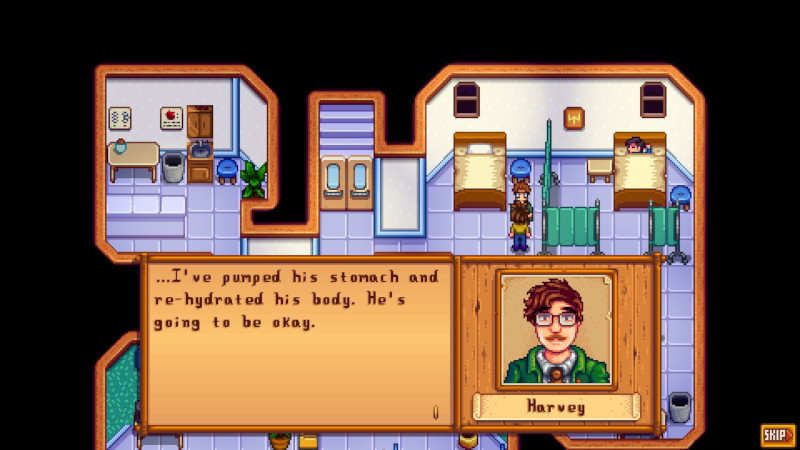 The following day, Shane is at your farm when you get up in the morning. He apologizes about the event, tells you he is glad you were there for him and decided he wants to see a therapist.
7 hearts event
Enter Marnie's house.
Shane enters the house with a big smile and tells Marnie this is the best he's felt ever since he was a kid. He's been drinking sparkling water instead of beer since a little while. He realizes he has friends that care about him.
He gives Jas an expensive gift that she wanted, that he can now afford with the money that was beforehand used for buying alcohol.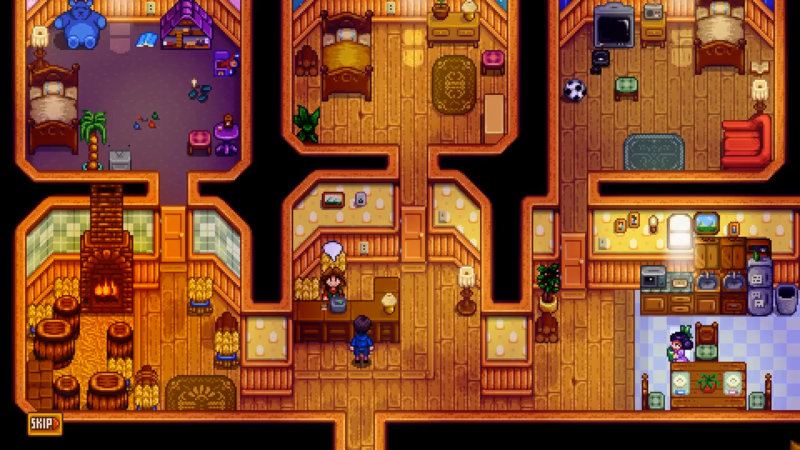 8 hearts event
Enter Marnie's house.
Jas tells you Shane is in the barn and wants to show you something. You enter the barn through the kitchen door, and Shane is there with a bunch of blue chickens.
He tells you he's been raising them in secret for the past few months and has been teaching Jas how to care for them. He wants to raise chickens and to get good eggs as a way to contribute to a better world.
10 hearts event
Exit your house.
Shane is there just outside your house and he tells you he has two tickets for a gridball game in Zuzu city. Go to the bus stop for 5:00 PM and Pam will drive you to the game.
You sit beside Shane and the game starts. The team he was rooting for makes a goal and everyone starts jumping and cheering, and he then gives the player a kiss.
He then apologizes for his behavior, and the scene ends with the player giving a kiss back.